Established in 2001, Mosaic, a 100% Woman Owned Small Business, offers one of the largest and most unique fabric rental inventories available anywhere in the world. In working with clients, we aim to bring their vision to life with table linens and fabric décor, creating a memorable backdrop for celebrations. With a desire to support our clients who are creating Live Event experiences, Mosaic's talented team is available to help them find authentic décor solutions.

Our showroom In Pittsburgh, PA (by appointment only) allows clients to experiment with hundreds of tablecloths, overlays, runners, pillows, chair treatments, and napkins to find the perfect combination of color, texture, and pattern for their vision. For clients out of town, we interface via email, FaceTime and phone, mailing swatches so that they can touch and feel our products. We can even send tablecloth sample orders to design meetings so clients can set full table settings and view their linens in conjunction with another tabletop décor.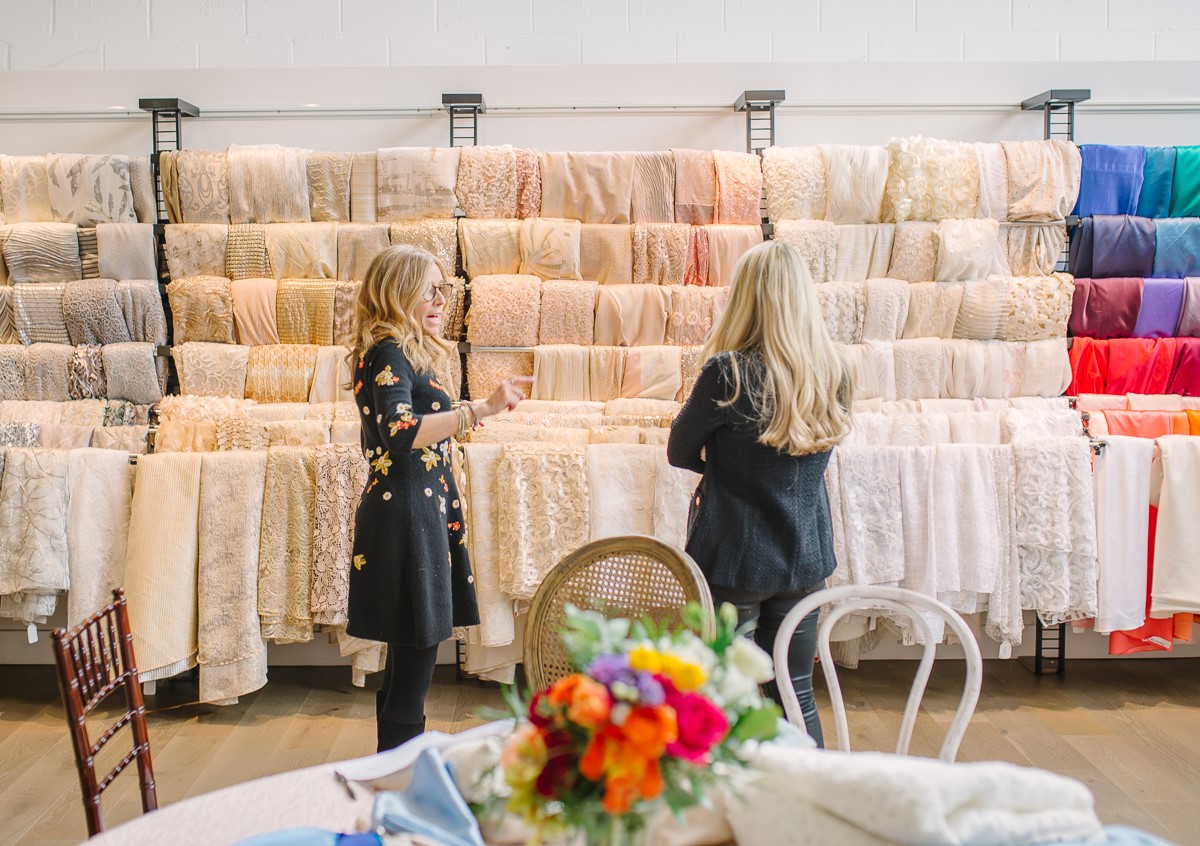 We offer everything from basic tablecloths to custom embroidered and artisanal woven fabrics. We also carry napkins, aisle runners, drapes, and lounge accessories including pillows, lampshades, and ottomans. We stay current with global trends, offering what is hot, hot, hot in the market! We also carry a full inventory of classic designs that never go out of style. We offer local delivery and set-ups in the Pittsburgh area, as well as nationwide shipping.

Our creative design team is available by phone, email, Zoom, or in-person to help clients as they pull together their concepts. With decades of experience, we can advise on fabric selections, layouts, and flow for events. We work with florists, site venues, and vendor teams when needed to coordinate all the details. It is our goal to make the process seamless. Whether hosting an intimate gathering, a wedding, a holiday party, a Mitzvah, a milestone occasion, a corporate gathering, or a grand gala,
we've got you covered!
Over the past twenty years, Mosaic has had the privilege of working with many talented team members. Our employees participate in many facets of the Live Event Industry and thrive on being a part of a team where everyone works together to support the vision of our clients. See what some of our clients have to say about our team and their experiences working with us by reading some of our Testimonials.

Our team is expected to demonstrate respect for their colleagues every day, and to utilize their strengths and talents in their work. We take pride in celebrating the creativity, diversity in perspective, work ethic, and intelligence of each individual who contributes to the success of our company. And as our company name, Mosaic, implies, what we put out together is greater than the sum of its parts! Collaboration is the key to greatness, and our team lives that mantra daily in the office.
Mosaic is an equal opportunity employer that celebrates the diversity of our American history. As our country is woven together and enriched by individuals with unique backgrounds, we too strive to bring individuals with a variety of perspectives and outlooks of life into our workplace. Because no two days are the same here, we are always looking for qualified individuals that embrace a can-do attitude, thrive on variation in daily work schedules, and have an aptitude for jumping into the chaos with a smile. We encourage big idea thinkers. We search for candidates that are good at leading, and even better at listening. If you want a career in the Live Events Industry working to help the community celebrate life's special moments, we'd love to hear from you!