It's time to put Autumn on full display at your wedding. The color palettes and venue choices are endless. What better way to show your love for fall than with a table setting fit for your celebration and the changing of the seasons?
1. GO THE EARTHY ROUTE
This is your time to incorporate all things moss, ochre, and earth-like into your table settings and party favors. Add these pieces and colors to some wooden tables, along with soft natural textures like silk runners that will give the right airy touch to elevate your tablescape.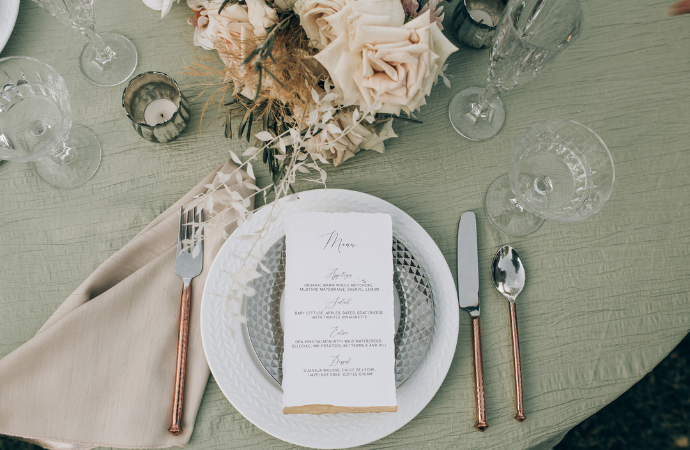 2. GO DARK OR GO HOME
Yes, warm tones are a must when it comes to this season, but don't be afraid to go out of the box with some cool accents. Adding cool-toned table cloths will allow your vibrant, autumn colors to pop a little extra.
3. KEEP IT GLASSY
The tablecloths, centerpieces, and lights are a must, but the glasses are just as important. Consider incorporating burgundy or amber glasses into your table setting. Small touches like this can keep your theme subtle but also make a statement.
4. IT'S HARVEST TIME
One of the best things about Fall is that it's also harvesting time. Gather your fruits, veggies, and sprigs, dried grasses and florals, and add them to your centerpieces. It will give your tablescape that seasonal feel that it may have been missing.


5. THE COLOR OF THE SEASON
When you think of Autumn, colors that come to mind are typically orange and burnt red hues. If you don't feel like incorporating the entire spectrum of season's foliage, consider just adding touches of orange and merlot throughout your celebration. This is a fun way to embrace the season without coming across as a fall fanatic.
6. MAD ABOUT PLAID
Everyone enjoys wrapping up in their cozy flannels as soon as it gets cold, but you can't always wear them at your wedding (unless you're into that Kurt Cobain thing). The next best thing is to have plaid table settings so you don't miss out on that cozy, fall-like necessity. Doing so will give your guests all the fireside plaid vibes!
7. BRANCH OUT
Get rid of your flowers and instead add foliage to your bouquets. Pick a branch with the colors you're looking for and trim it to your liking. Add to the centerpiece by clustering together sturdy dried florals, succulents, and magnolia leaves.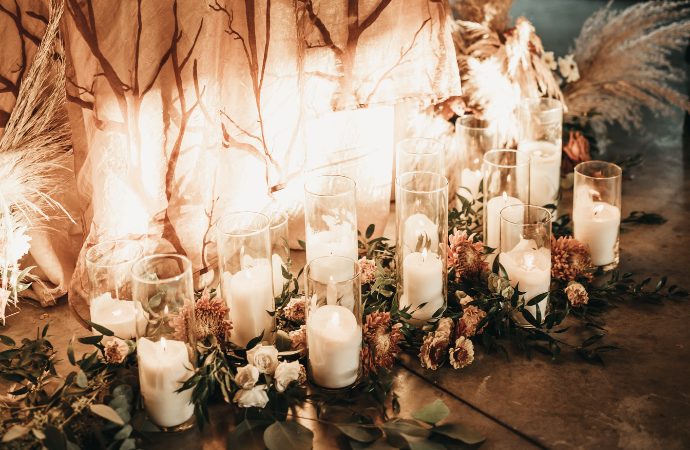 8. IT'S KEEP IT RUSTIC
The wooden farm look is a fun and light way at celebrating your fall wedding. A wooden sweetheart table placed at the front for the bride and groom will surely take the show. Add a runner to add warmth and romance to this hardscape table design. Don't have access to Farm Tables? No problem - use a burlap fabric and place wooden lanterns with candles throughout the table settings.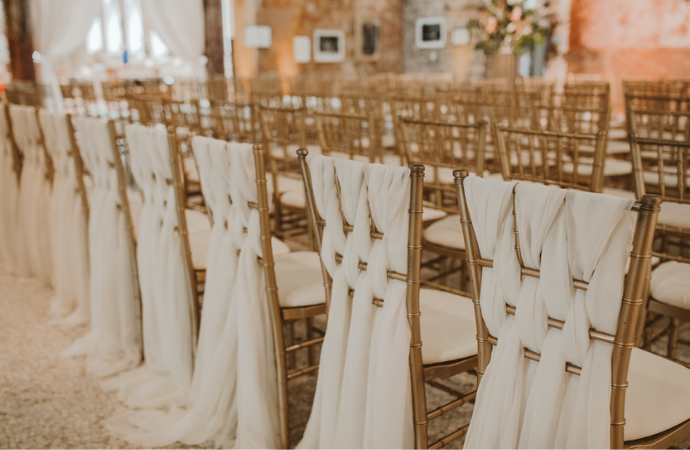 9. FLOWERS EVERYWHERE
Don't be afraid to place flowers anywhere and everywhere there is space for them. Simple place settings with a cream linen tablecloth allow the earth-toned flowers to be the focal point, making a dramatic presence in your design. Add florals to mantelpieces, tent entrances, escort tables and dessert tables to carry out the more-is-more theme when it comes to florals!


10. BRING IT TOGETHER WITH A FEATHER (OR TWO)
Add texture and height to your centerpiece by incorporating feathers and long candlesticks. This still gives you that elevated-fall feel that you're looking for and pairs perfectly with blush colors and gilded accents. Feathers can add pattern, texture and drama to any fall set up.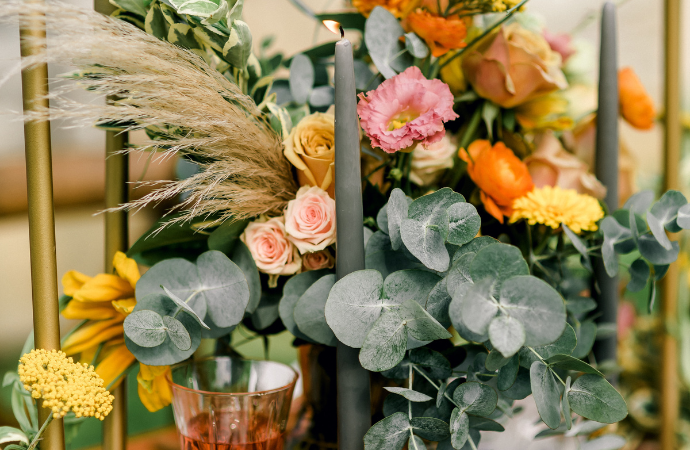 Looking for more inspiration? Look no further than these pre-curated collections designed by Mosaic's senior designers and stylists. Click here for a consultation.