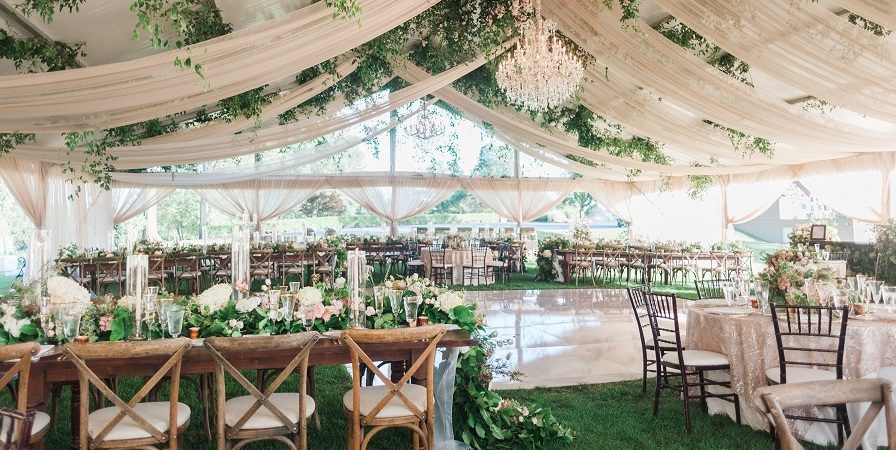 Millennial brides are always looking to add modern flare to their events. A traditional barn wedding with beautiful farm views will always be relevant and popular. However, some brides are now looking to mix the rustic, barn style with modern elements of luxury glamour. Rustic wedding, meet modern glam! This West Virginia wedding planned by Shayla Hawkins Events uses classic natural, rustic decor with modern touches in all the right ways.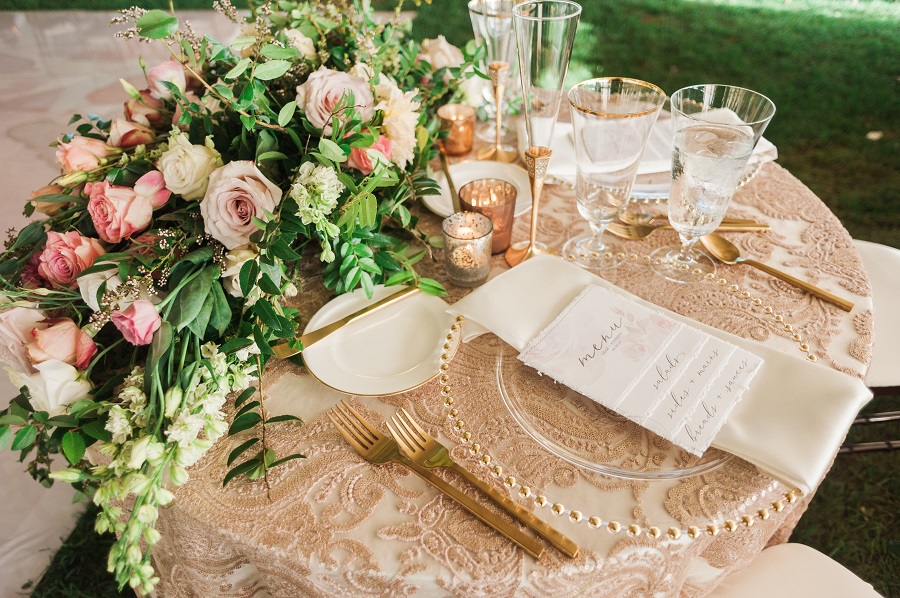 Sparkly, sequined linens as well as the chiffon throughout the tent makes this event stand out from the others.
MILLENNIAL HUED FLORALS TRANSFORM RUSTIC TO GLAM
The color palette of your florals can transform the look of your design dramatically. Earthy, "dirty" colors are on trend right now. They will effortlessly make your natural barn or backyard wedding feel more contemporary. Mixing dried and live flowers is another unique way to enhance your event design.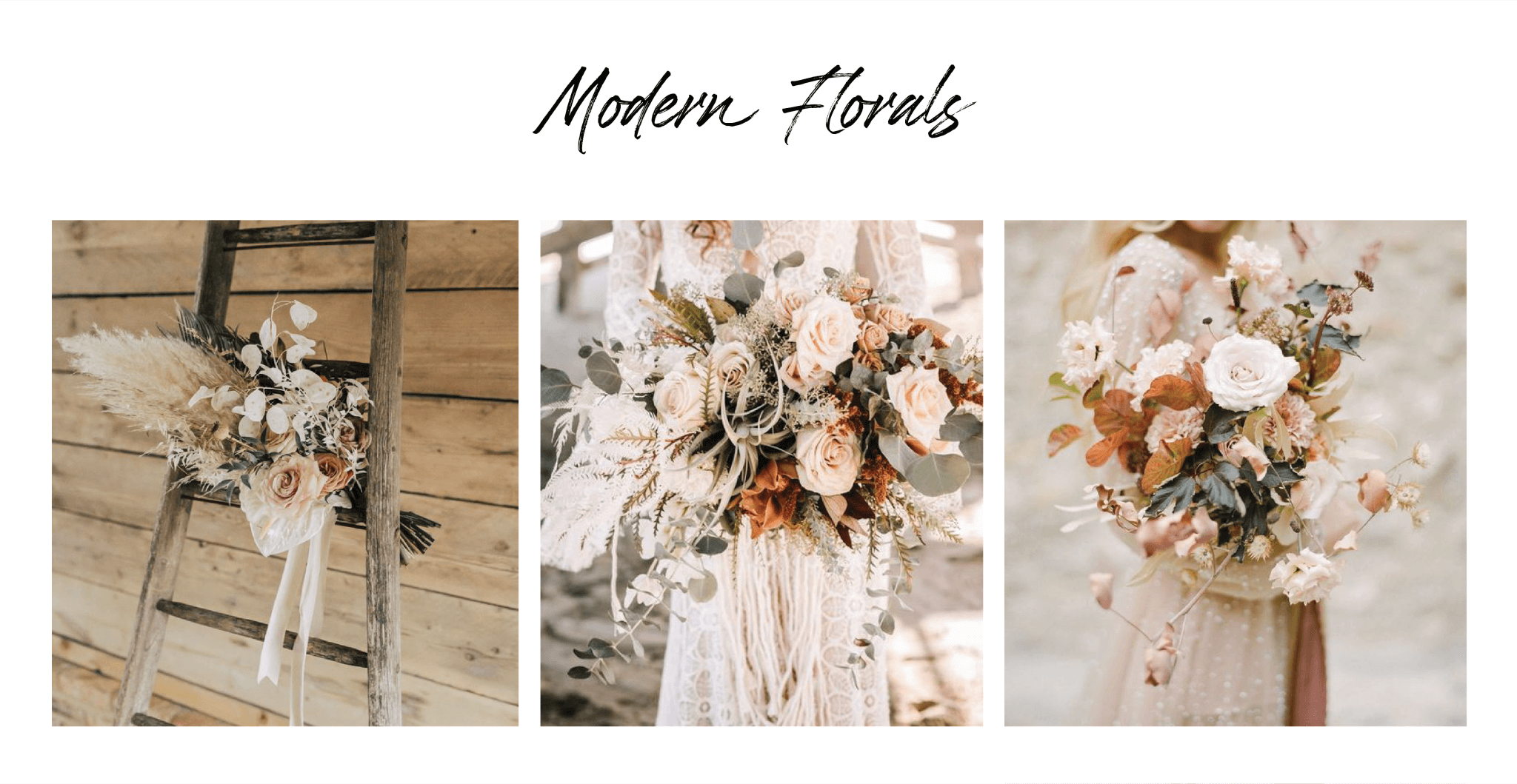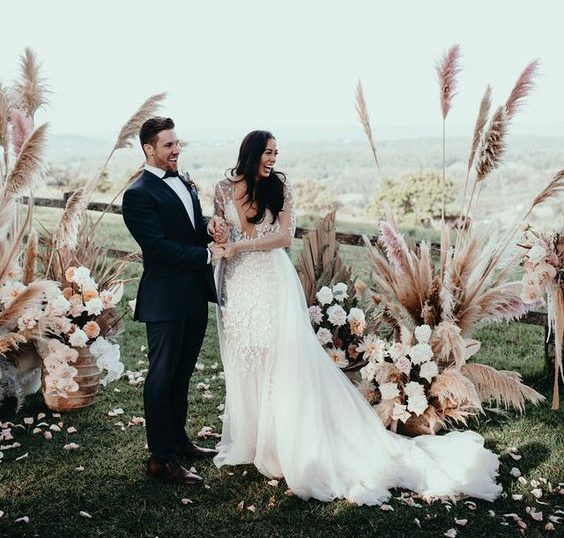 This bride wanted lush flowers, and a lot of them! She even incorporated a French inspired flower shoppe display where guests could create their own arrangements- to package in craft paper bundles and take home at the end of the evening. Florals mixed with fresh greens and unexpected, millennial hues, like taupe and dusty rose, add a fresh take on "rustic glam". This wedding takes our breath away.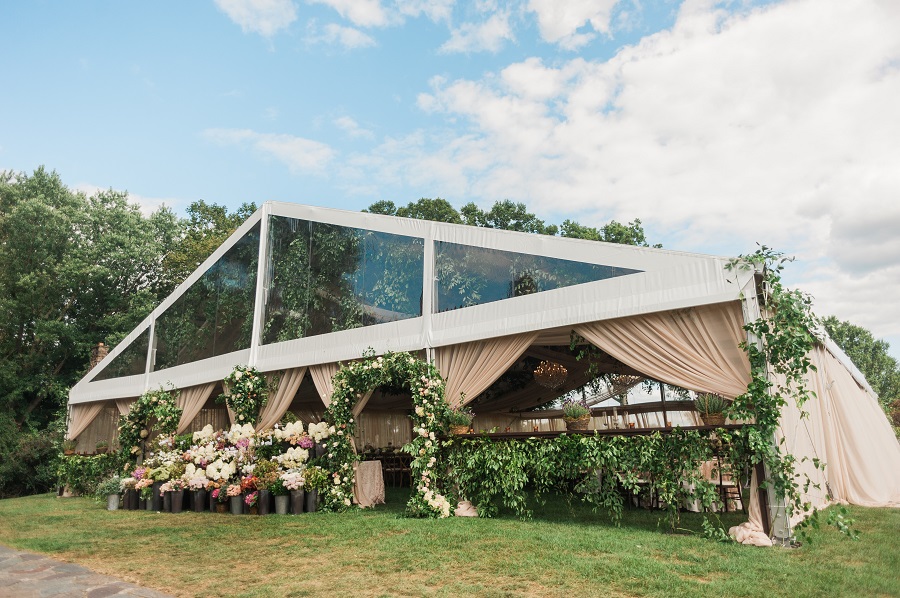 A french inspired floral display greets guests as they enter the rustic yet glamorous reception space.
A MODERN TAKE ON THE LACE WEDDING DRESS
A lace dress is often what the rustic style bride gravitates toward. Why not try an interesting silhouette to make your dress more extraordinary and unexpected? Billowy, peasant sleeves are often associated with country style. Some designers are now juxtaposing this style sleeve with a more structured, modern, fitted silhouette. This is yet another way to insert a modern element into a rustic wedding.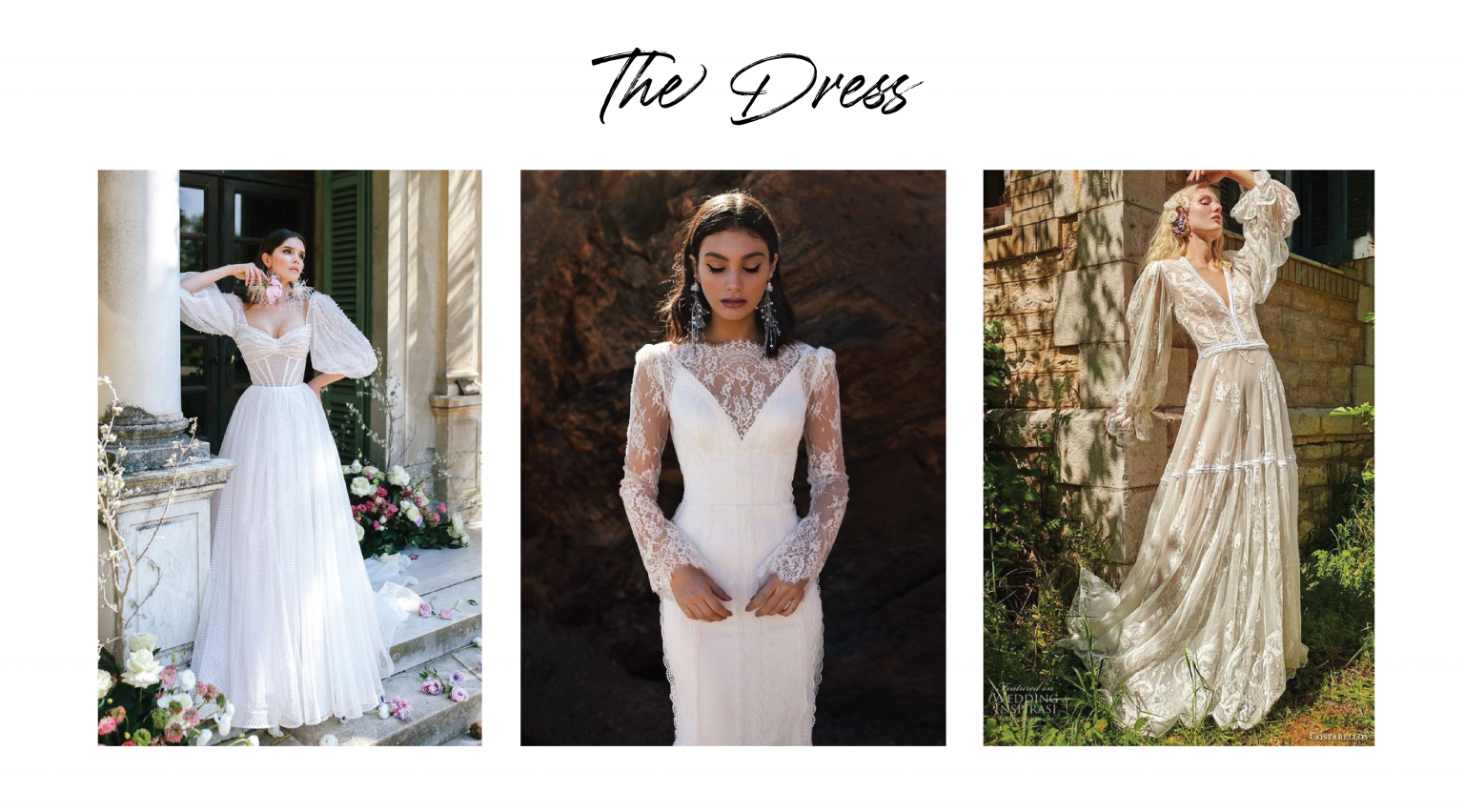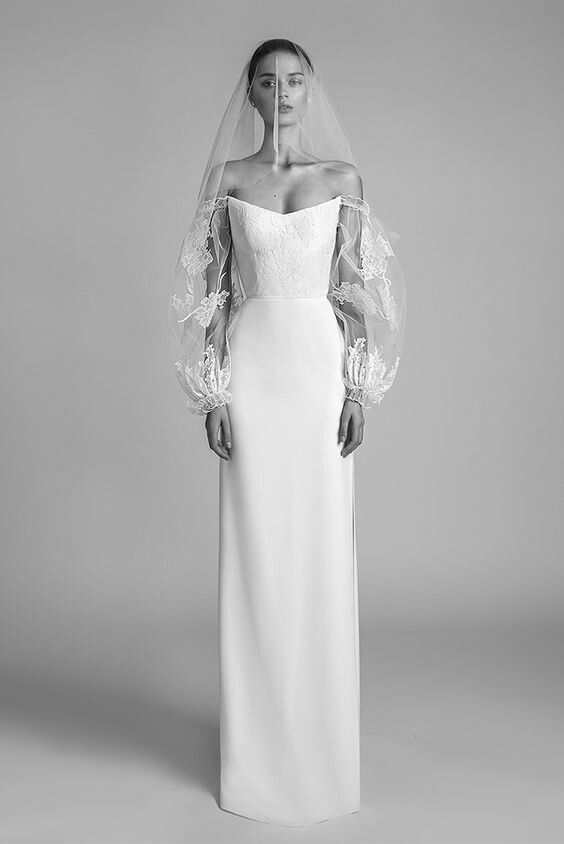 Rustic peasant sleeves juxtaposed with a modern glam silhouette
MODERN ACCENTS
Incorporating acrylic accents into the decor is an easy way to make an event feel modern. Acrylic welcome signs and table numbers with trendy typeface elevate an entry way and guest seating in a big way.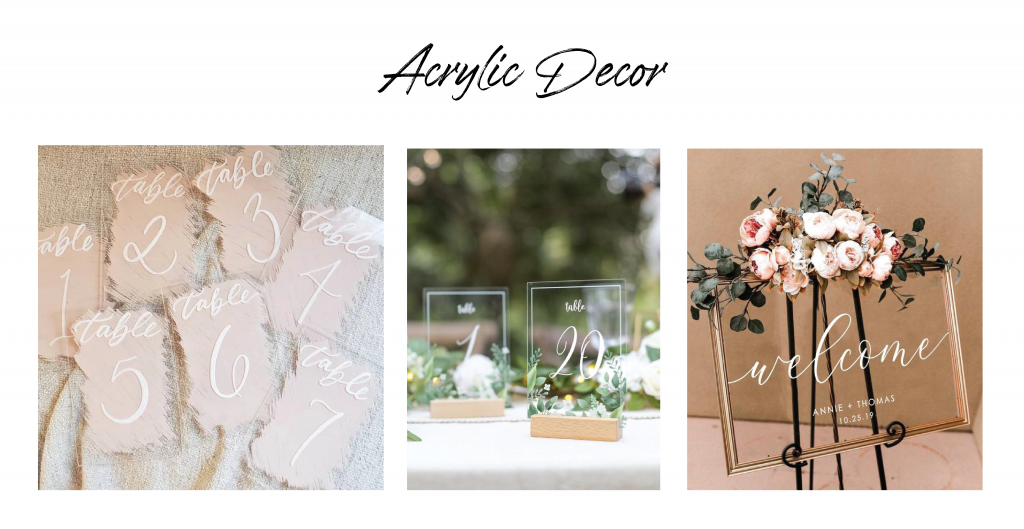 Another way to add luxury to your rustic event is by adding chiffon runners or draping. The silky material against the natural wooden farm table or draped against wooden barn walls is charming and absolutely stunning. The breeze will move this lightweight fabric making the space come to life.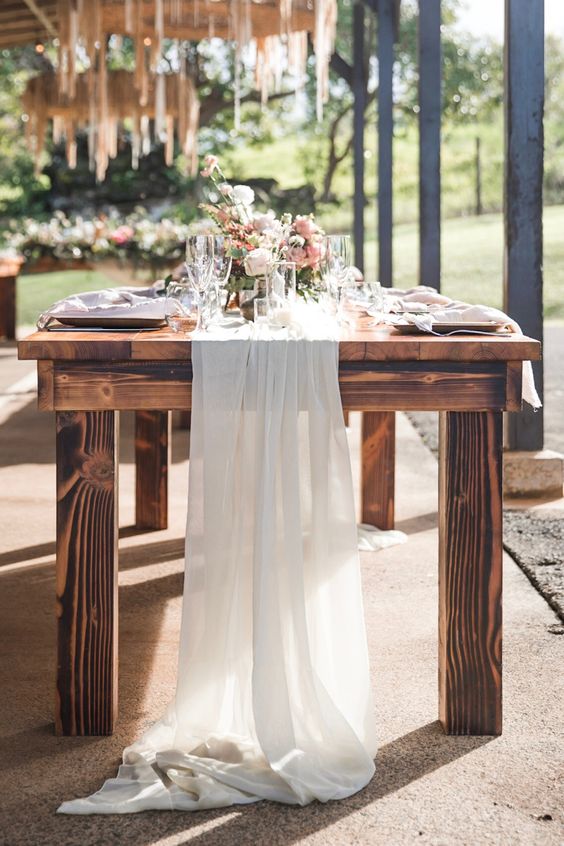 Chiffon runner adds a touch of glam to this rustic table scape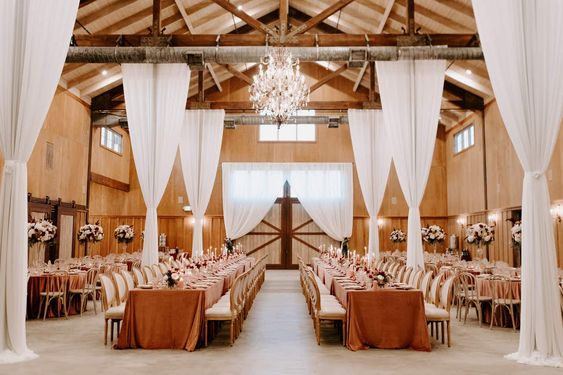 A rustic, wood event space accented with modern, chiffon draping
RUSTIC MEETS MODERN GLAM GUEST ATTIRE
Rustic weddings tend to have a more casual feel. A rustic-meets-modern glam wedding is a different story, however, and guests should dress appropriately. A silky pink dress is classically glamorous and luxe. You can wear sparkly, modern jewelry with accessories that have natural materials such as this wicker crossbody or these wooden heel sandals. A platform heel like this will also keep your shoes from sinking into the earth, something to consider when attending any rustic style wedding.

Making your rustic wedding more modern and glamorous is easy to achieve with the right touches! Add some sparkle or an unexpected color palette to give your event unique flare. Choose a traditional lace dress with a modern silhouette. Natural touches look amazing mixed with more current materials and elevate the look of the decor and details of your special day.