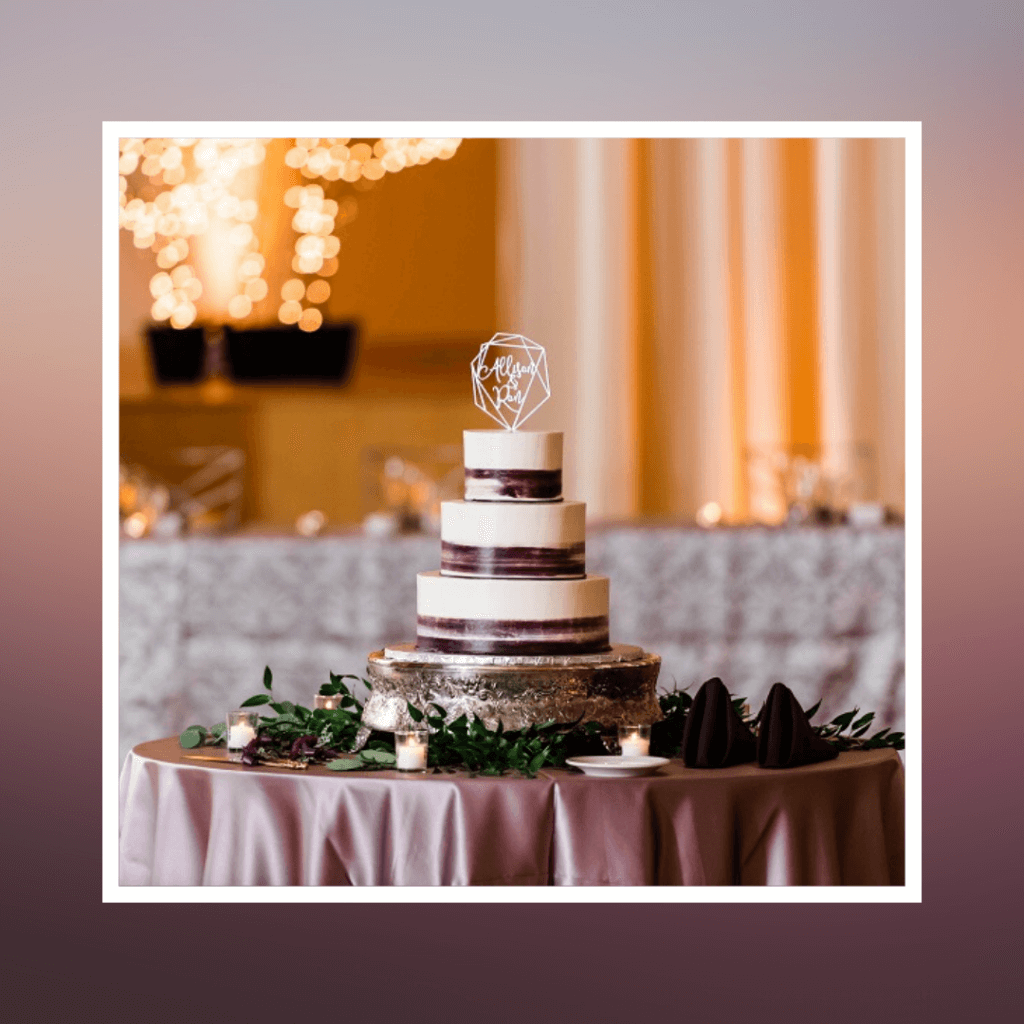 CAKES TO HELP YOU SAY "I DO"!
These days, couples say "I do" to a wide variety of cakes – untraditional, savory, and uniquely designed, just to name a few. What kind of cake will you choose?
CAKES OF ALL SHAPES
Traditional wedding cakes are delicate, floral confections of pastel colors and often round or square shapes. In the modern era, couples are more open to taking risks with their cakes and it's paying off in a big way! A gourmet cake will be delicious no matter its shape, so why not try something different? Clean geometric lines are a fun way to modernize traditional cakes. You can still decorate with flowers and white frosting, but try accentuating your cake with a 3-D hexagonal cake stand, like this geometric cake by Pip n Bits Cakes.



Clockwise from top left: Pip n Bits Cakes, Jasmine Rae Cakes & Sun in my Belly

A couple with an understated aesthetic may want a cake that doesn't steal the spotlight. If this is your design vibe, consider a simple cake with stately, square layers and figs, like the above creation by Sun in my Belly. A couple who is looking for something more ornate and extravagant may select a cake that is grand in style. Jasmine Rae Cakes has the perfect inspiration. Above, the intricately designed flower petal/ocean wave cake looks so good that they resemble works of art that belong in a museum!
NAKED CAKES
Naked cakes are rustic, organic and very on trend. Icing is used sparingly, or not at all, on the outside to showcase the cake's natural texture and layers. Less icing is perfect for someone who doesn't want all of that extra sugar!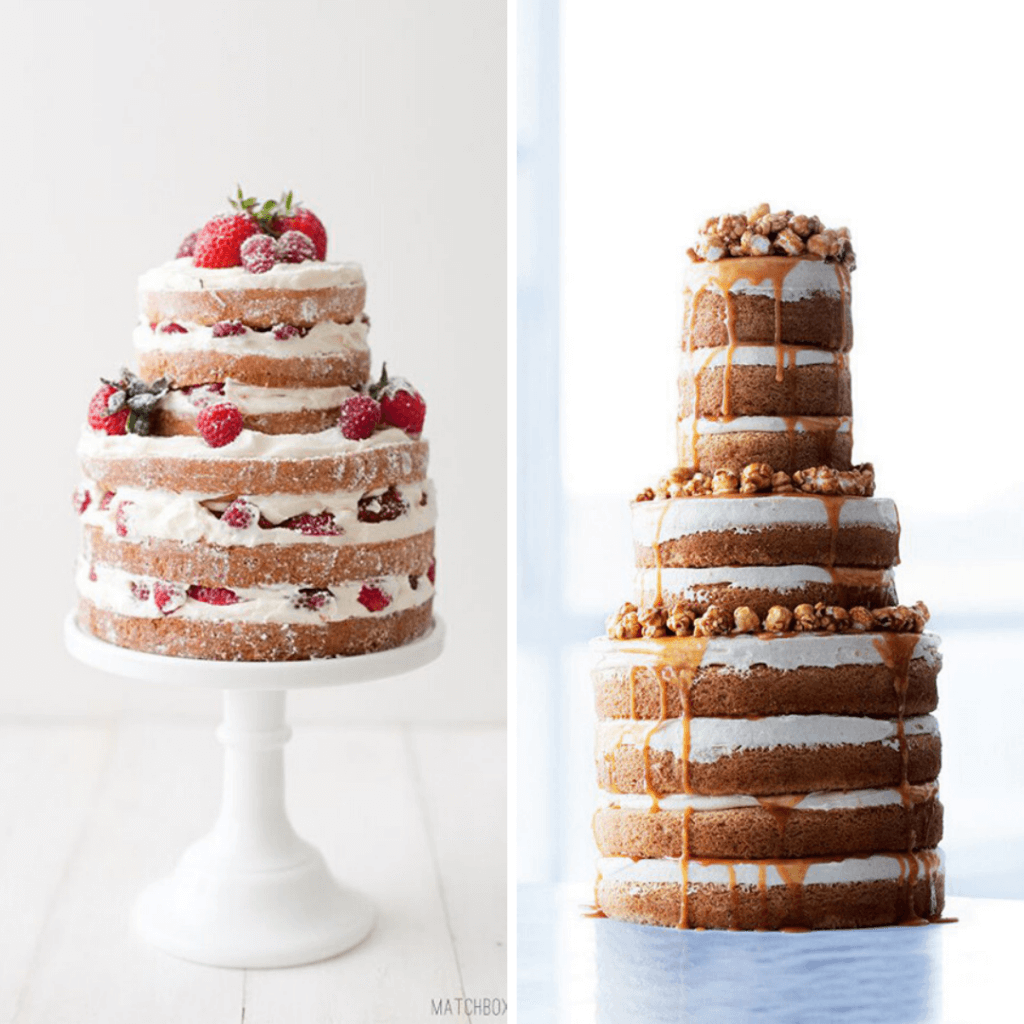 You can add color with flowers, fruit toppings, and any other festive decoration you like. If your wedding is in the summer, a naked cake will ease your mind from worrying about the buttercream frosting melting due to hot temperatures. To further safeguard your icing from melting, opt for a jam or meringue type filling instead. Head on over to Brides.com to find more inspiration!
GEODE CAKES
For the couple who wants to make a statement, consider a geode cake! Geode cakes are anything but subtle. They are intricate, modern, and very glam! Check out this video by Chelsweets to see how a geode cake is constructed with rock candy.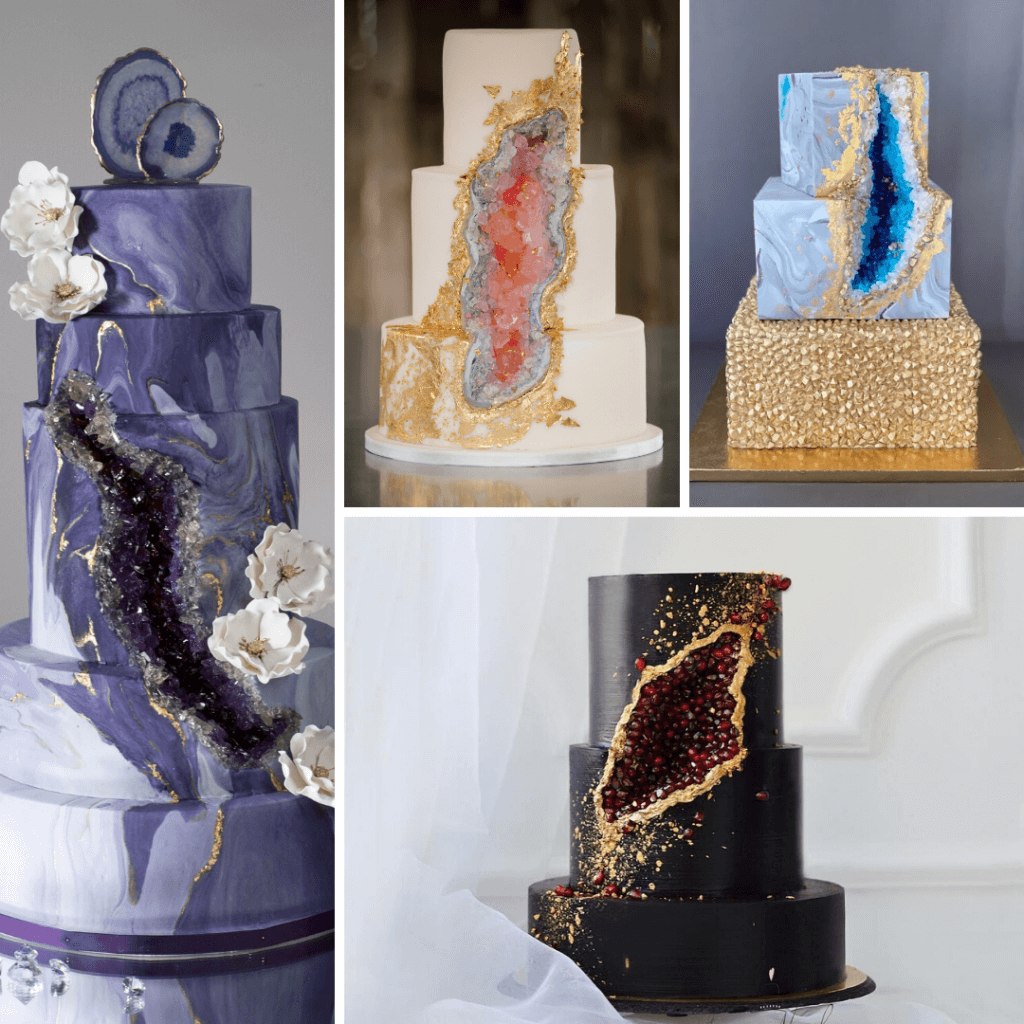 Cakes by (clockwise from left): For the Love of Cake, Carrie's Cakes, Shazka Cakes, Nadezda Axenova
Top your geode cake with a pair of real geode slivers, like the beautiful amethyst creation from For the Love of Cake. Carries Cakes created a stunning, classic white cake with gold leafing and a colorful crystalline core. Play with shapes and incorporate a metallic base layer, like the blue and gold marbled cake by Skazka Cakes. For extra drama, choose a dark colored cake to really make the gold pop, as designed by Nadezda Axenova. If you look closely, you'll see that instead of using rock candy to create the illusion of a geode, this artist filled her cake with pomegranate seeds!
CAKES OF ALL SIZES
Do you ever find that your eyes are too big for your stomach? Try a bite-size serving of cake instead!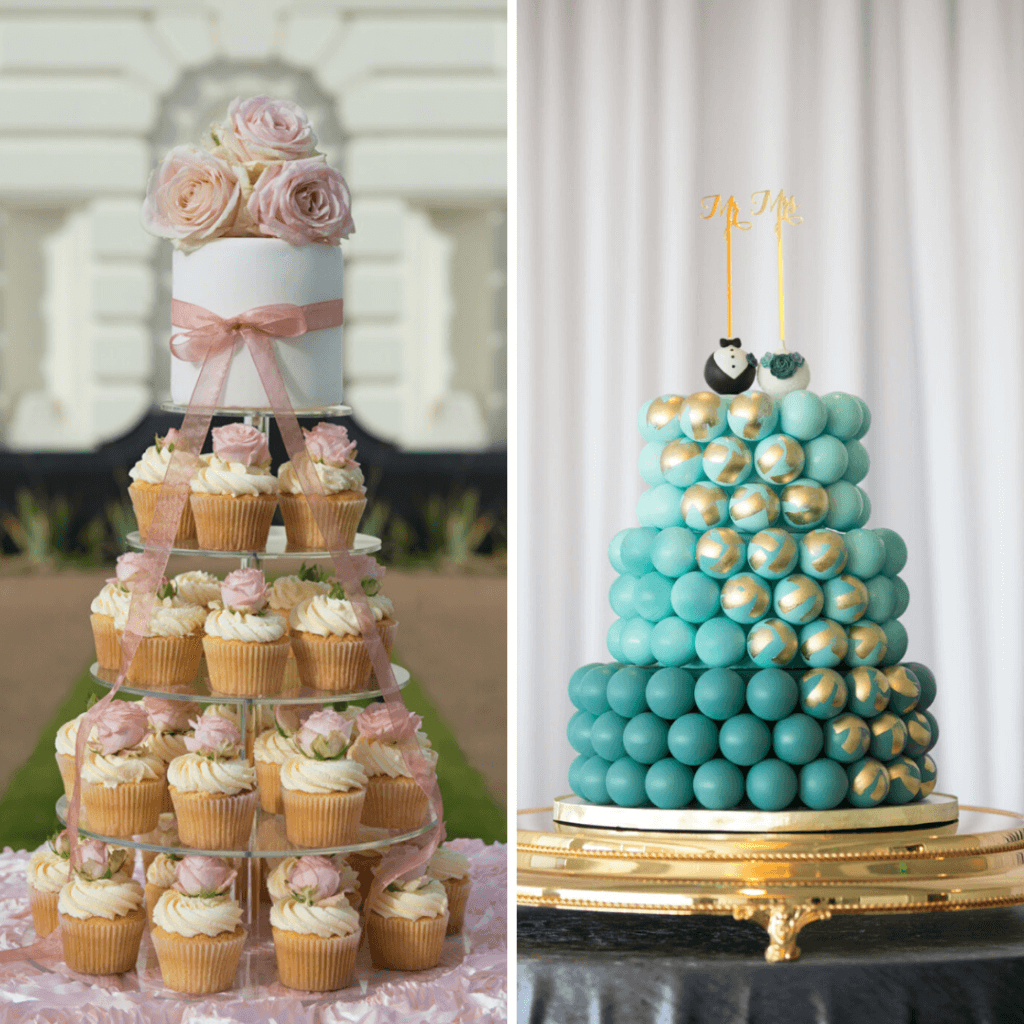 Cupcake towers are a huge trend because you can choose more than one flavor to suit every guest. Incorporate a small cake of your favorite flavor at the top of your tower for the cutting of the cake ceremony, like this vanilla beauty by Antonia's Cakes. If you love the benefits of cupcakes but don't love the look, consider a cake pop tower. Cake pops can be sleek and modern, as created by Marry Me Tampa Bay.
UNTRADITIONAL CAKES
For the bride and groom who are tired of traditional cakes but still want something sweet, look to a similar idea but with a twist!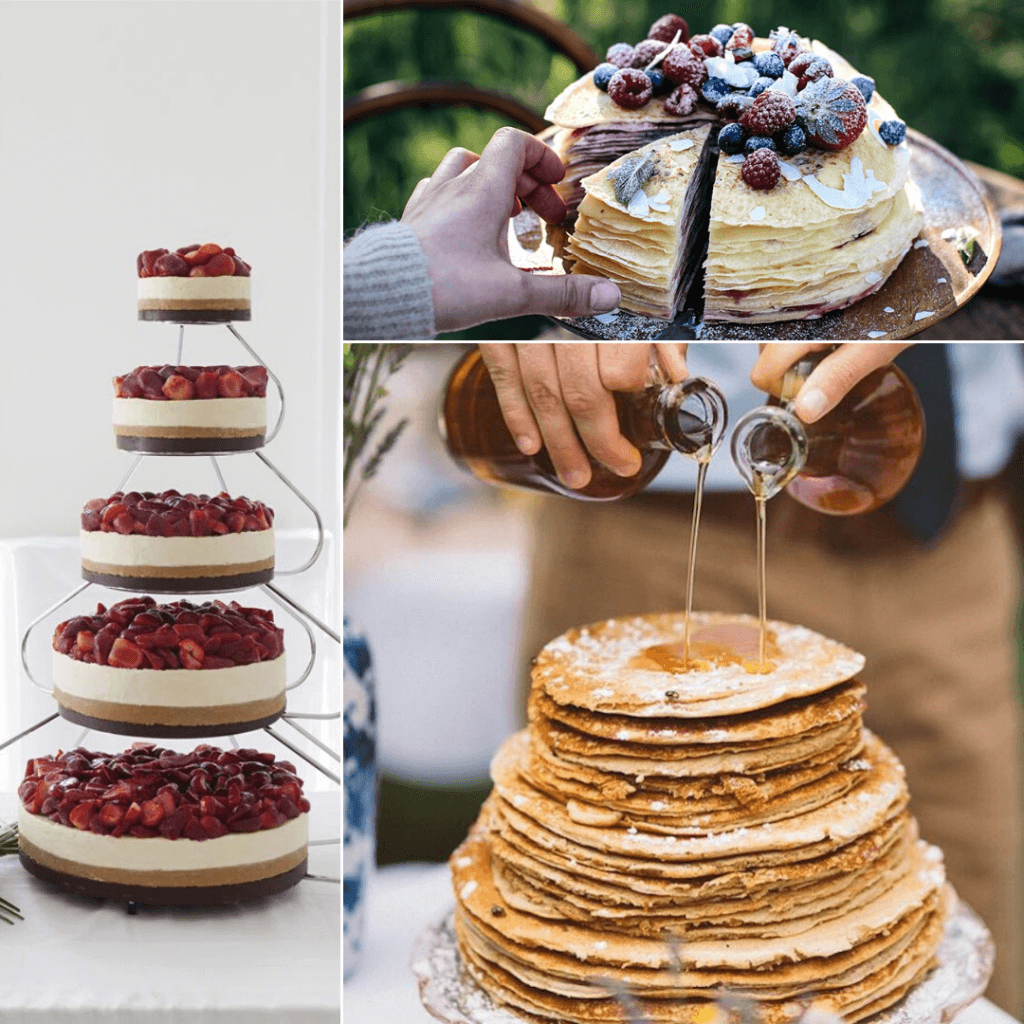 Clockwise from left: Cheesecake (English Cheesecake Company), Crepe Cake (Our Food Stories), Pancake Wedding Cake (Wedding Chicks)
Cheesecake wedding cakes are best topped with glazed berries and a deliciously crumbly graham cracker crust. For the breakfast lovers, Crepe and Pancake wedding cakes incorporate plenty of different fillings, sprinkles of powdered sugar, and fruit or maple syrup. Donut towers and macaron towers (pictured below) are also great alternatives.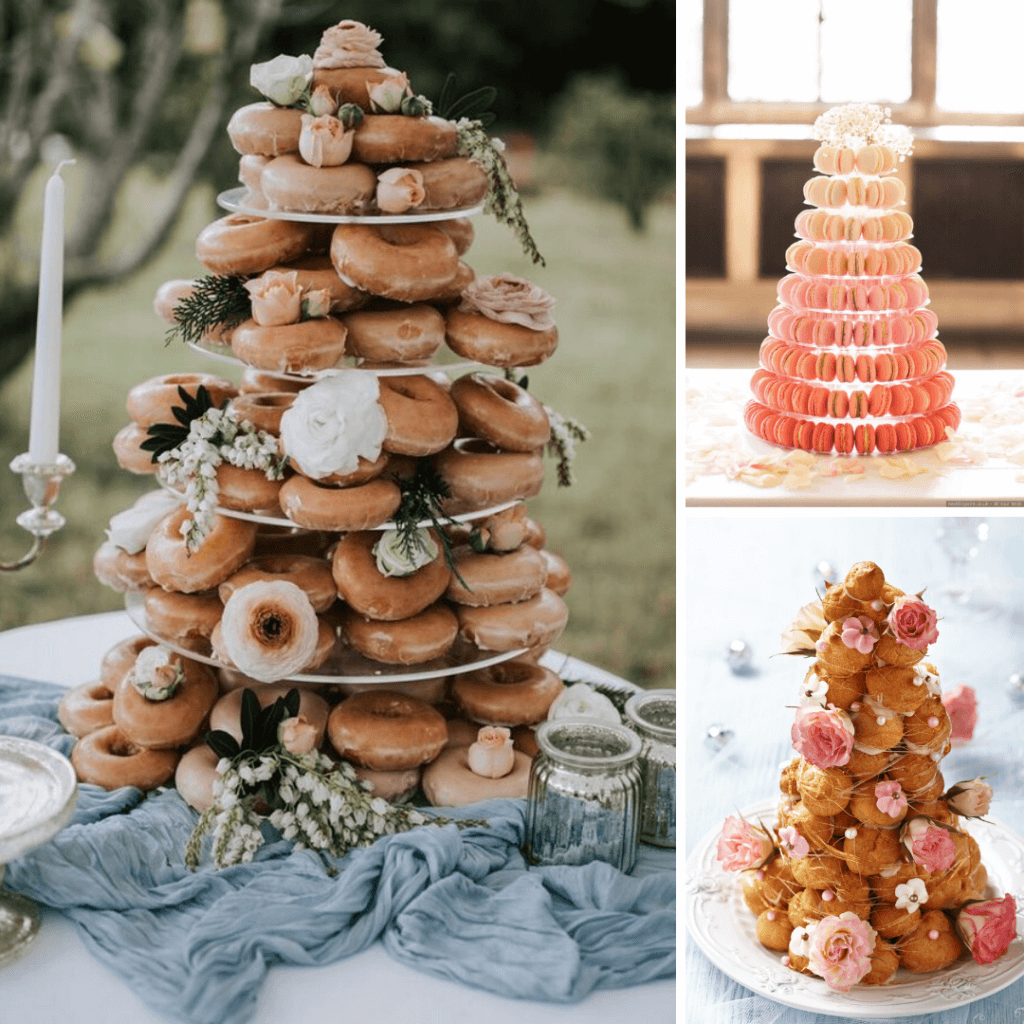 If you're feeling French, try a Croquembouche wedding cake! Croquembouche is a French confection comprised of a tower of tiny cream puffs or profiteroles (also called "choux"), wrapped in ribbons of caramel and filled with a creme patisserie (or pastry cream). Try to make your own using this helpful youtube video from Morrisons before you fully commit!
SAVORY CAKES
Sometimes the best way to say "I do" is not with a sweet cake but a savory cake. One of the newer trends in wedding cakes are not even cakes at all! This lovely cheese wheel cake is earthy and elegant. Cheese wheel cakes can be completely customized to your personal tastes, however, they might be more labor intensive to design. You'll have to independently taste soft, firm, and blue cheeses to discover the best fit for each tier. Find more tips to creating your cheese wheel cake at Bridal Musings.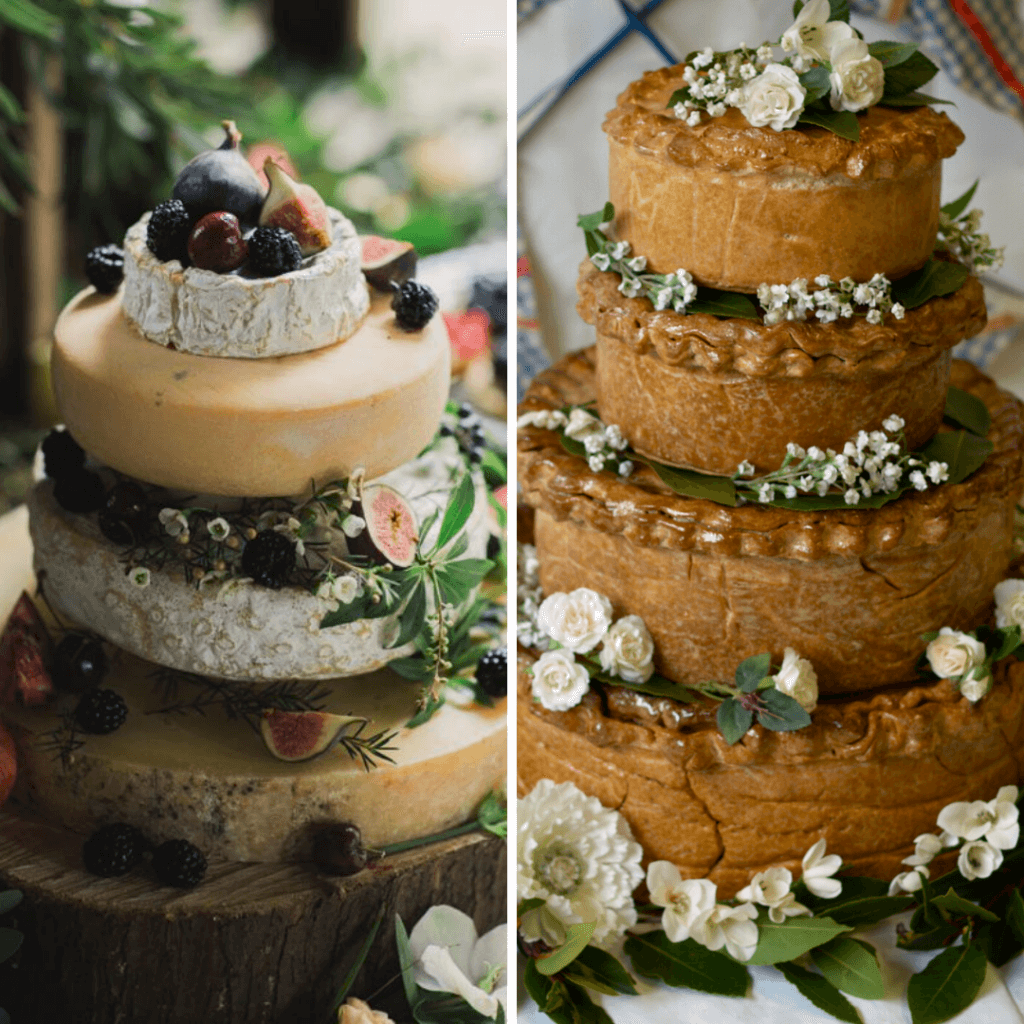 Cheese Wheel Cake, Meat Pie Cake

If you're a meat and potatoes kind of couple, maybe think outside the box and offer your guests with a meat pie cake. Meat pie cakes have a crispy golden crust filled with savory ingredients like pork, chorizo, garlic, and other delicious flavors. If you're interested in this wild new wedding cake idea and are not local to the UK, check out Stargazy Philly, a traditional pie and mash shop in Philadelphia, PA who created their owned tiered meat pie wedding cake. Why not rethink the wedding cake concept?
CAKE TABLE LINENS
Now that you've chosen your cake and are concentrating on how you will present it to the guests, consider how you will display your cake! The cake will be featured in many photos so it is important to choose a linen that you absolutely love. You will also want a linen that compliments your cake and doesn't overpower it.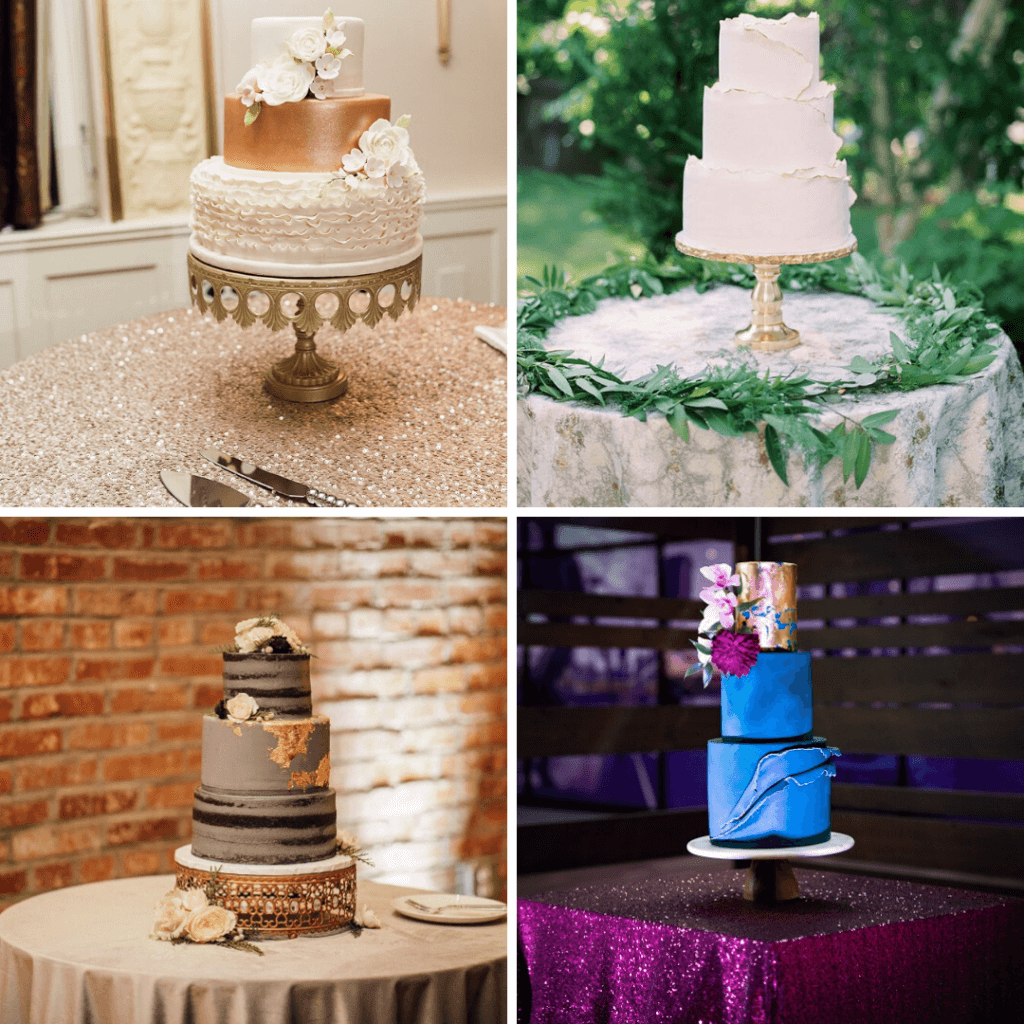 Clockwise from top left: Blush Sequined Taffeta, Gold Marble Parchmen, Crimson Glimmer, Charcoal Velvet

If you like the glitzy look, you can find inspiration for sequin linens at the Blissful and Beautiful gallery and A Jewel Tone Wedding gallery. If you're into a neutral linen but you still want something extra, like gold metallic foil, take a peek at the Dreamy Garden Fete gallery. If you love neutral linens with a velvety texture, check out the Ivory Timberland gallery.
CAKE TOPPERS
One last way to customize your cake is the topper! Check out our suggestions and make your topper unique to you and your loved one.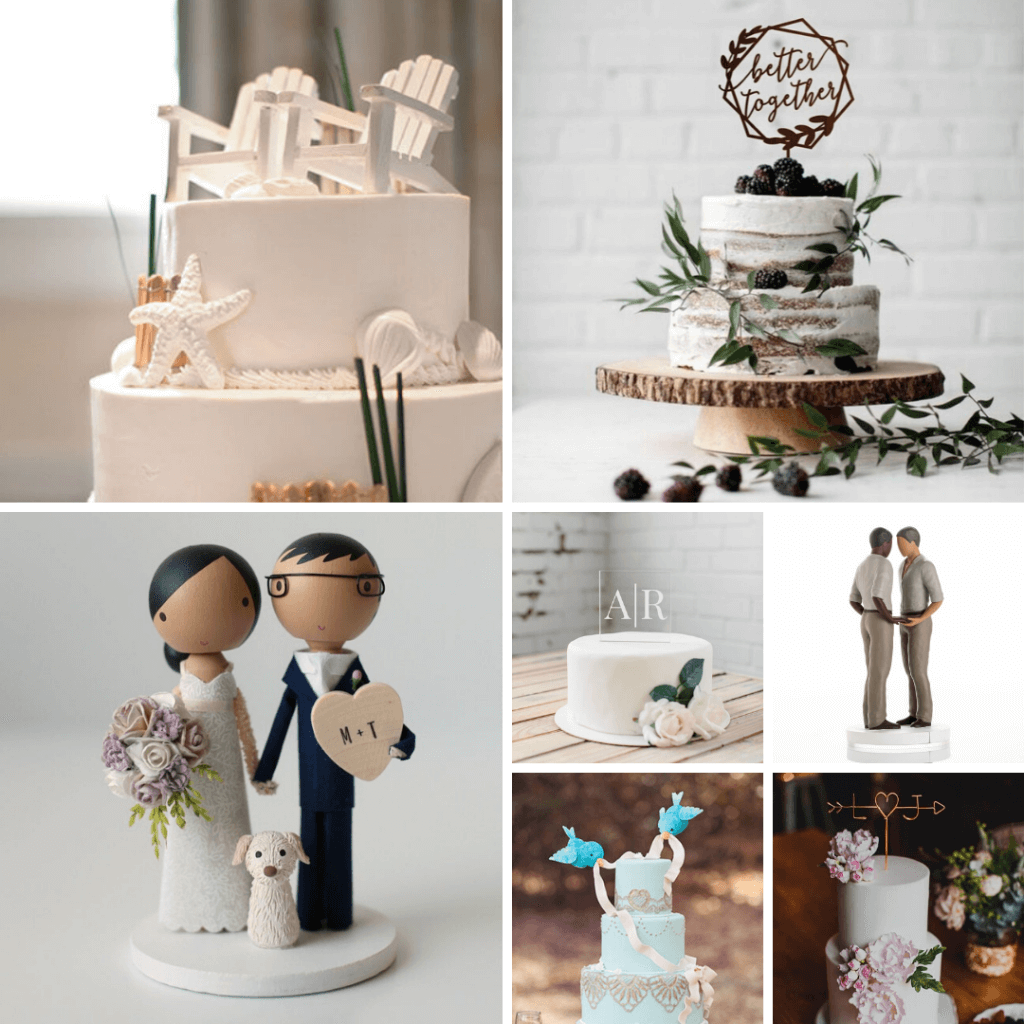 If you met on the boardwalk, the Beach Chairs toppers, as photographed by Nikki Cole, may be just the ticket. Accent your cake with a quote that speaks from the heart, such as the Better Together topper from GuestBookStudio. Have peg doll toppers made in your image and you can even include your fur baby too! Look to Lollipopworkshop to create your mini-me. If you want to top your cake with initials, try the barely-there look of acrylic from SaveTheDateDesignsCo or brass arrows from LeRusticChic. MarriTreeLane offers understated and neutral figurines for any coupling. Lastly, for the fairytale wedding, get creative with Cinderella's birds as seen at Bridal Guide.

Creating a design for your wedding cake and the presentation of it can be fun. It will definitely be a focal point of the celebration so take the time to focus on all components – from topper to the table on which you present it to the guests. And with so many options, we are sure you can create the perfect personalized cake to help you as you say "I Do"!